Internet for RV and Travel
If you're one of the many RVers who find themselves constantly searching for reliable and affordable internet service, then you'll want to check out ispMint. ispMint provides a fast and reliable Internet connection that blasts straight through trees and mountains, which is perfect for RVs and travelers.
Approximately seven years old, ispMint is a new breed of Internet Service Provider (ISP) focused exclusively on the unique needs of the RV and travel community. Whether you are a part of the RV, marine, or boating community, business travelers, contractors, truck drivers, hunters, or technocrats, ispMint has all your needs sorted.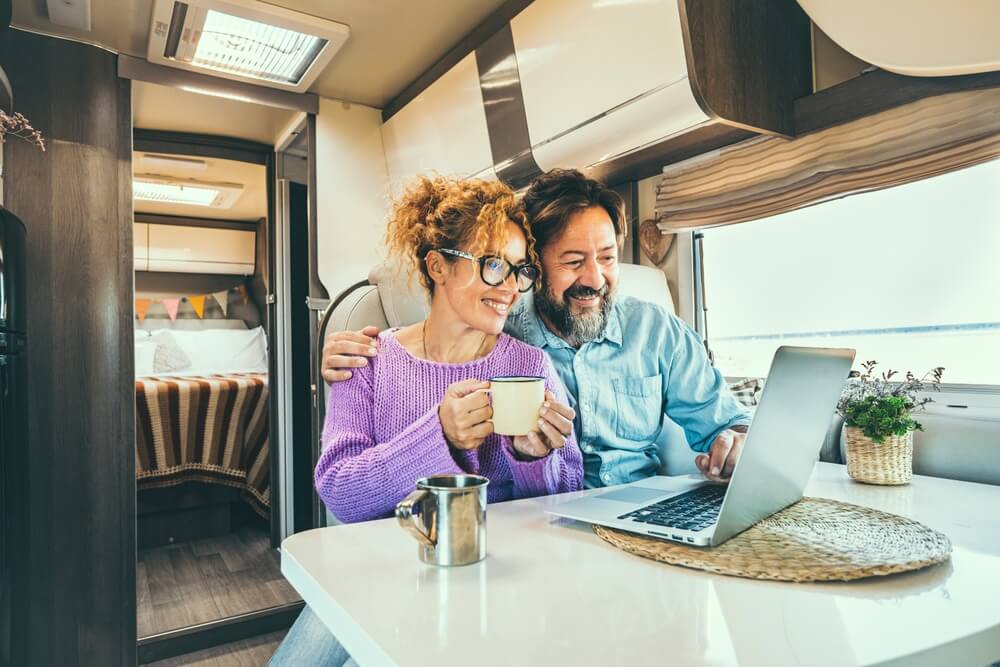 ispMint Offers Unlimited Data Plans to Stay Connected on the Go
High-speed internet for RVs with ispMint gives you quick downloads, browsing, and streaming speeds practically everywhere in North America. You can now visit places with high-speed broadband that you never thought possible. Internet access with ispMint is available wherever you want to park, be it in cities, towns, or rural areas.
ispMint provides the fastest speeds available, so you can stream, browse, and download all day long without interruptions. Also, if you ever run into any issues, our customer service team is always ready and willing to help.
So, if you're looking for the best rural internet for your RVing and travel needs, be sure to give ispMint a try (it's 100% risk-free). You won't be disappointed!
ispMint provides the best rural internet for RVers
ispMint is a Game-Changer for Rural Internet
ispMint has changed the game when it comes to rural internet access. Unlike other providers that rely on outdated infrastructure, ispMint uses cutting-edge technology to deliver fast, reliable internet to remote areas. This means that RVers can enjoy the same high-speed internet as their urban counterparts without having to worry about slow speeds or dropped connections.
ispMint Offers the Fastest Speeds Available
When it comes to speed, ispMint is in a league of its own. With speeds of up to 500 Mbps in urban areas and 190 Mbps in rural areas, RVers can stream HD movies, download large files, and stay connected with friends and family while on the road, all without waiting around for their connection to catch up. And because ispMint uses a wireless network, there are no delays or buffering - just fast, consistent speeds wherever you go. We even have tricks to help you know where to park your rig, so you get the fastest speeds wherever you go.
Great Customer Service
RVers know that when it comes to customer service, not all providers are created equal. That's why they'll be happy to know that ispMint offers 24/7 support from a team of friendly and knowledgeable representatives. No matter what time of day or night, someone will be there to help with any issues or questions you may have, so you can always enjoy peace of mind on the open road.
Proud to Serve the USA
ispMint is a new generation of the Internet for RVers and travelers. We are veteran-owned and are proud to serve the USA by offering our customers the best possible Internet experience. Whether you are on the road or at home, we have you covered with the fastest and most reliable RV Internet available.
Reasons Why ispMint is the Best Rural Internet for RVers
Affordability
ispMint is one of the most affordable rural internet providers, with a plan of $99 per month. This is a great price for what you get, which is reliable, high-speed internet that streams TV, Zoom meetings, and gaming systems just like having a cable broadband connection.
Reliability
ispMint is a very reliable internet provider, with 99% uptime. This means that you can always count on your internet being there when you need it—no more worrying about losing connection in the middle of important tasks or looking for the next WIFI hotspot.
If you're looking for an internet option for your RV or travel that is more reliable than Starlink or with fewer droppages and more coverage, then you should check out ispMint. ispMint doesn't require visibility to the satellite, so you'll be able to get online in more places. The startup costs are the same as with Starlink, but you'll get more bang for your buck with ispMint.
Flexibility
ispMint is a very flexible internet provider, with a $99/mo. 200/gb and $119/mo. Unlimited plans. Whether you need a basic internet connection for email and web browsing or a more robust connection for gaming and streaming, ispMint has the high-speed internet that's right for you.
Speed
ispMint offers some of the fastest speeds available in rural areas, up to 190 Mbps. This means that you can do all the things you love online without having to worry about buffering or slow speeds.
What is the best rural internet for RVers?
ispMint is the best Rural Internet for RVers
RVers and travelers have long been underserved by the traditional ISP industry. For years, it has forced them to choose between the expensive satellite internet and slow, cellular phone hotspot data. But now there's a new option: ispMint.
ispMint is a game-changer for rural internet access. It's a fixed wireless service that delivers fast, reliable internet to RVs anywhere in the country. And best of all, it's affordable.
ispMint Offers the Fastest Speeds Available
With ispMint, you can get download speeds of up to 190 Mbps. That's enough speed for streaming HD video, gaming, downloading extensive files, and video chatting with friends and family back home.
ispMint has the Best Customer Service
ispMint has a team of experienced customer service representatives who are ready to help you with any issue, 24/7/365. They're knowledgeable about RVing and they understand the unique challenges that RVers and travelers face when it comes to internet access.